Organizer : SIWI
Dates : August, 23 – August, 27
Place : generally in Stockholm, Sweden. This year edition will be held online
Website event : http://www.worldwaterweek.org/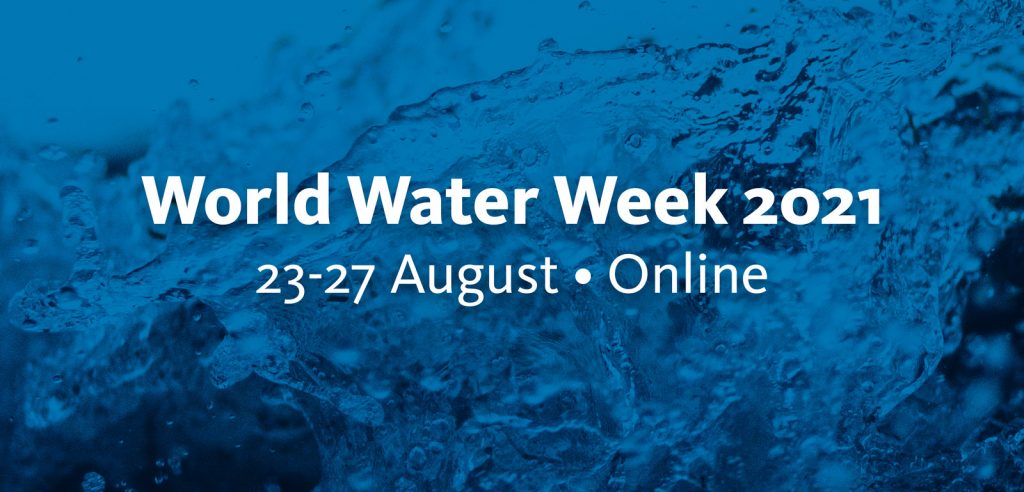 The World Water Week in Stockholm is a major yearly event for international stakeholders in the water sector, allowing them to exchange ideas and discuss major issues facing this resource. The French Water Partnership has traditionally participated in this large event.
Context
The World Water Week in Stockholm is organized every year by the Stockholm International Water Institute (SIWI). Since 1991, it has served as the annual focal point for discussions and talks on global issues that the water sector is facing.
Each year, more than 200 bodies hold meetings and sessions over the course of this week. Many stakeholders from the water sector in English-speaking countries attend the conference and discuss the technical, political, and scientific aspects of water resource management.
Theme of the year: building resilience faster 
A specific theme is selected for each year. The 2021 edition will be dedicated to "Building Resilience Faster", with a focus on concrete solutions to the world's greatest water-related challenges, starting with the climate crisis and including water scarcity, food security, health, biodiversity, and impacts of the Covid-19 pandemic. It will be held from August 23 to August 27 online.
Our events: five sessions ans side events 
The FWP and its members are organizing or participating in several sessions and side-events. All registration links are not available yet. This page will be updated shortly with all the registration and connection details for each session. You can already save the dates in your agendas. 
August, 23 : 5:00 – 6:00 PM CEST 
Multi-dimensional role of youth in building resilience  
Climate change, COVID-19 and other systemic shocks compromise progress on the SDGs. As youth will have to deal with these challenges the longest, empowering and integrating youth in building back better is more important than ever. This session offers an intergenerational expert dialogue to expose pathways for youth engagement in building resilience with a focus on three topics : Water security for peace and cooperation ; Nature-based solutions for climate resilience and WASH in fragile settings.
Co convenors :
French Water Partnership
SIE
SIWI
CAY4W
Global Water  Partnership
Netherlands Water Partnership

Swiss Water Partnership
Young Water Resolutions
Water Youth Network
UNESCO IHP
Youth Delegates of the World Water Council
---
August, 24 : 11:00 AM – 12:00 PM CEST 
Humanitarian WASH coordination: from global support to national plateform partnership 
In 2020, humanitarian crises reached yet again a global peak. Strengthening response capacities by coordinating available humanitarian aid has been crucial to keep up with overwhelming demand and to build resilience. This session will present effective coordination mechanisms such us clusters
and localised approaches, expert deployments, strategic partnerships.
Co convenors:
French Water Partnership
Global WASH Cluster
Action Contre la Faim
Solidarités International

UNICEF 
USAID's Bureau for Humanitarian Assistance (BHA)
Norwegian Ministry of Foreign Affairs
---
August, 24 : 5:00 – 6:00 PM CEST 
ICIReWaRD Montpellier: presenting a new UNESCO Water-related Category II Center
The UNESCO General Conference approved in November 2019 a new water-related Category II Centre on 'interdisciplinary research on water systems dynamics' (University of Montpellier), creating one of the largest single-site water research and training Centers in the world. This session will showcase the Centre's story, approach, and water-related initiatives.
During this session, representatives from the main organizations at the heart of this scientific and institutional journey together with the French Water Partnership, will present the new Centre, with a focus on (i) its key initiatives and on its expected contributions to SDG6 and to the UNESCO Water Family as well as (ii) on and to addressing key water-related challenges through science, interdisciplinary research, higher-education, and capacity building. The session will also aim to facilitate new opportunities for collaboration and networking through a moderated Q&A session around the Centre and its activities.
Co convenors:
French Water Partnership
International Center for Interdisciplinary Research on Water systems Dynamics

UNESCO Intergovernmental Hydrological Programme
University of Montpellier
---
August, 26 : 2:00 – 3:00 PM CEST 
SIWI High Level Panel: Building Resilience from Source to Sea
There is growing recognition that a holistic, cross-sectoral approach to addressing global issues is a pre-requisite to building resilience. This panel of high-level actors from the freshwater and ocean communities will explore the benefits of adopting the source-to-sea approach when designing actions that tackle the climate-land-water-ocean-biodiversity Sustainable Development Goals.
Co convenors:
French Water Partnership
SIWI
Action Platform for Source to Sea Management

Stockholm Environment Institute
Swedish Agency for Marine and Water Management
UNDP-SIWI Water Governance Facility
---
August, 27 : 2:30 – 3:55 PM CET 
Blended finance for water and climate: when theory meets practice
Vast additional public and private funds will be required to deliver the Paris Agreement and the SDGs. Blended finance is an important financing solution to accelerate action but it has not reached scale for water-related investments, and understanding the barriers in the enabling environment at country level is key.
Understanding the barriers in the enabling environment at country level is key. This session will allow you to learn more about water-related investments as an essential means to enhance climate resilience and achieve the SDGs, as well as to understand the role that blended finance can play in helping to bridge the financing gap in water-related investments (with a focus on its potential to shift funds that are currently not directed to sustainable development in countries and sectors where they are needed the most). This will be achieved through concise case studies; by facilitating the exchange of experiences, best practices, and lessons learned; and by identifying actionable recommendations for policy, practice, and research.
Speakers from:
French Water Partnership
1001 Fontaines
CAF – Development Bank of Latin America
Convergence Finance
French Development Agency
Global Environment Facility

Organisation for Economic Cooperation and Development
Safi Sana Holding B.V.
The Nature Conservancy
Union for the Mediterranean
Waterpreneurs