---
Date
 
Heure
 
Pavilion
 
Event
 
Language

Friday

November 5

 

Glasgow : 3:00 –  4:30 PM

Paris : 16h –  17h30

 

French

Zone D – PV57

 

Hybrid

 

French (English version available)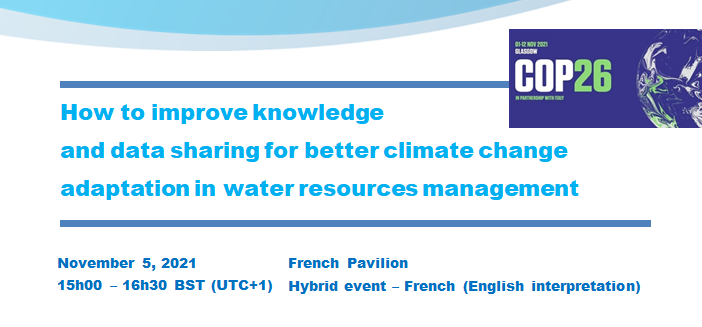 ---
How to participate:
On site: French Pavilion situated in zone D, Pavilion 57 (within the permitted limits). Download the map here.
Online: Follow the session live on youtube here.
---
The quantitative and qualitative sustainable management of natural resources (water resources in particular), as well as managing global change, are at the heart of national, European and international mitigation and adaptation efforts.
This event will present and contextualize new scenarios published in the latest IPCC report, with a focus on the impacts of climate change on the water cycle. This will be followed by presentations on the challenges posed by data sharing; on how satellite data can enrich in situ networks and promote the exchange of knowledge, experience, and expertise ; and on new tools and operational services.
Through a number of use cases and examples, the event will also highlight how Earth observation can facilitate and enhance water resources management (both in terms of quality and availability) and how it can apply to different water uses and contexts (agriculture, shipping, biodiversity, floods, droughts, etc.).
Programme 
Panel :
Stéphane Crouzat, French Climate Ambassador
Dominique Bérod, Head, Earth System Monitoring Division – World Meteorological Organization (WMO)
Valérie Masson Delmotte, Co-Chair, Working Group I – IPCC
Jean-Luc Redaud, President of the Global and Climate Change Working Group, FWP
Philippe Maisongrande, Land & Hydrology Program Manager, CNES
Laurent Verdié, Planning research and evaluation Director – Adour Garonne Water Agency
Agathe Euzen, Head of Water Unit – CNRS, co-Head of OneWater Programme
Moderator:
Alexandre ALIX, Programme Officer, Water and Climate, French Water Partnership (FWP)
Convening organizations:

Partners: