Article – WANT EARTH TO STAY THE "BLUE PLANET"? PRESERVE WATER!
Update 2019-04-24
---
---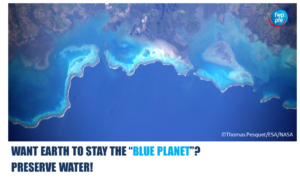 More than ever, Earth's resources such as water and its inhabitants are threatened by climate change. It is therefore urgent to act and protect the wealth of our planet. On the occasion of the International Earth Day (22nd of April 2019), the French Water Partnership gives an overview of the knowledge gained from space exploration through the unique images that have helped to see the Earth in a new light.
By comparing the Earth to Mercury, Venus, and Mars, the FWP highlights the beauty of our blue planet and its singularity. The unique images taken by the astronaut, Thomas Pesquet, as well as ESA and NASA remind us that liquid water is a singularity of our planet thanks to the favorable conditions of temperature and pressure on our planet. In comparison, Mars has known such conditions in its past where the climate was wetter and warmer than today, and water was abundantly flowing on its surface. Today, the only vestiges of this past activity are the presence of dry river beds and deltaic deposits. A concern arises: will the landscapes on Mars be the landscapes of tomorrow's Earth? The FWP highlights that solutions exist and can be served to mitigate the greenhouse gas emissions as well to adapt to climate change for that the Earth stays THE blue planet and for a long time!
---
---