---
Date
 
Heure
 
Pavillon
 
Format
 
Langue

Mercredi 3 novembre

 

Glasgow : 10h30-11h30

Paris : 11h30-12h30

 

Eau – PV64

 

Hybride

 

Anglais

(pas d'interprétation)
---
Pour y participer :
Sur place : RDV sur le Pavillon Eau, zone PV64. Attention, une jauge est imposée. Lorsque celle-ci est atteinte, l'accès n'est plus permis. 
En distanciel : L'événement sera diffusé en direct sur la chaine YouTube du Pavillon Eau. Cliquez sur ce lien pour vous connecter.
Consulter la page dédiée à la COP26  sur notre site internet pour avoir plus d'informations pratiques. 
---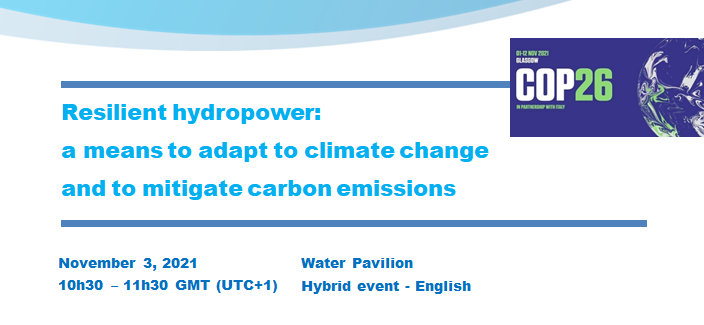 As precipitation and flow regimes evolve from ongoing climate change, hydropower facilities worldwide are facing operational challenges. While severe flooding has been an issue in some places, extreme droughts not anticipated by designers, planners, and operators have more often been an issue, even in facilities that are relatively young. Stark tradeoffs with other water users, including ecosystems, are one result. In the most extreme cases, turbines that are stand high and dry prompt decision makers to shift to backup energy systems, often ones that are carbon-emitting. How can we ensure that our existing and future hydropower assets remain resilient, efficient, and low carbon in an uncertain future?
Speakers :
Eileen Burke – Global Lead for Water Resources – World Bank Group (WBG)
Dr James Dalton – Director, Global Water Programme – International Union for Conservation of Nature (IUCN)
Pauline Larat, Deputy head Head, Energy division – French Agency for Development (AFD)
Alexandre Marty, Head of Climate and Natural Resources – Electricité de France (EDF)
Dr John H. Matthews, Executive Director, Alliance for Global Water Adaptation (AGWA)
William Rex, Senior Adviser – International Water Management Institute (IWMI)
Convening organizations
Partners: