August, 24 : 5:00 – 6:00 PM CET 
ICIReWaRD Montpellier: presenting a new UNESCO Water-related Category II Center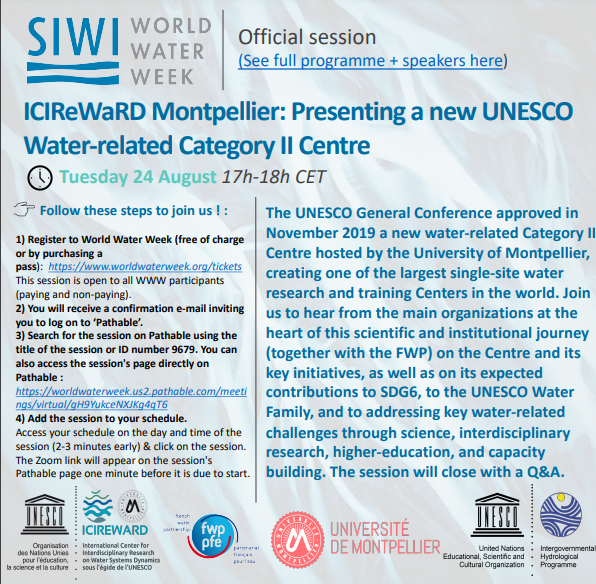 Speakers:
Registrations (to find the session on Pathable): Session ID: 9679 or directly via this link.
Session:
The UNESCO General Conference approved in November 2019 a new water-related Category II Centre on 'interdisciplinary research on water systems dynamics' (University of Montpellier), creating one of the largest single-site water research and training Centers in the world. This session will showcase the Centre's story, approach, and water-related initiatives.
With the approval of its creation by the UNESCO General Conference in November 2019, the Montpellier 'Institute on Water and the Environment' (IM2E) has become the 'International Center for Interdisciplinary Research on Water Systems Dynamics' (hosted by the University of Montpellier), making it the only UNESCO water-related Centre in France, only the second to be located in the South of Europe, and one of two new additions to the network of Water-related Category II Centres coordinated by UNESCO's Intergovernmental Hydrological Programme.
Bringing together over 400 scientists and 150 PhD students at the largest water sciences hub in France, the creation of ICIReWard constitutes a major international recognition to Montpellier and IM2E's water sciences communities. During this session, representatives from the main organizations at the heart of this scientific and institutional journey together with the French Water Partnership, will present the new Centre, with a focus on its key initiatives ; and on its expected contributions to SDG6, to the UNESCO Water Family, and to addressing key water-related challenges through science, interdisciplinary research, higher-education, and capacity building. The session will also aim to facilitate new opportunities for collaboration and networking through a moderated Q&A session around the Centre and its activities.