---
Date
 
Heure
 
Pavilion
 
Event
 
Language

Friday,

November 12

 

Glasgow : 16:45 – 17:45 GMT

Paris : 17:45 – 18:45 CET

 

Water

zone D -PV64

 

Online

 

English
---
How to participate:
On site: Water Pavilion, zone – D, Pavilion 64 (within the permitted limits). Download the map here.
Online: Follow the session live on the Water Pavilion YouTube channel. Click on this link to connect.
---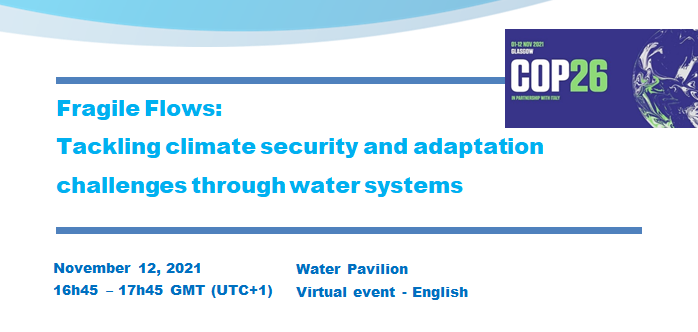 The new IPCC report highlights the need to understand the direct human impacts of anthropogenic climate change. Trends in migration, urbanization, food production and land use may be in response to climate vulnerability, and can also serve as risk multipliers in fragile situations.  But in some cases these trends may demonstrate – and even promote – greater resilience.
As such, concerns about the security risks associated with climate change are low in the near term. But the report raises concerns about the security implications of extreme events and compound threats over the long term.  Water, as the medium through which societies will experience the most severe impacts of climate change, takes center stage in this climate security discussion.
Water is an integral consideration when building resilience capacity in communities. Water-related policy and investment can play a strategic role in mitigating climate security risks –promoting the dual benefit of promoting peace and sustainability in fragile communities. So, what practical lessons have we learned from recent experience that can inform future interventions to build resilience capacity? And what issues require deeper investigation in order to design effective policies and investments going forward? This session will convene a diverse roundtable of specialists who will help to chart a path toward "what we think we know" and "where do we need to go from here".
Programme 
Panel:
Claudia Sadoff, Executive Management Team Convener and Managing Director for Research Delivery and Impact, CGIAR

 

Maria Amakali, Director Water Resources Management, Ministry of Agriculture, Water and Forestry, Namibia
Maura Barry

, Senior Deputy Ass

istant Administrator and Interim Global Water Coordinator, 

USAID 

 

Bram Riems

, 

senior wash advisor,

 ACF

 

Azeem Shah, Senior Regional Researcher: Governance of Water Institutions, International Water Management Institute Pakistan
Marie-Laure Vercambre, General Director, French Water Partnership
 Master of ceremony: 
Mark Goldberg, Editor, UN Dispatch 

Partners: